To be Member
Do you work for a non-profit organization or individual that uses football as a tools for development in a unique way and in your specific local context ? Member of Dream Team Football Academy profit from increased visibility of their local work on regional and global levels.
Do you want to take part in Youth Development using power of football ? Executive Committee of Association des Anciens Footballeurs du Rwanda (A.A.F.R) accept individual, NGOs , Companies applications for membership and evaluating them.
If organization is interested in becoming a  member, please electronically submit an application letter together with your organization information by email to info@sierradelagua.org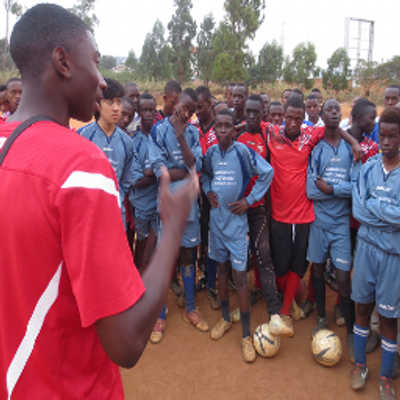 WHAT WE EVALUATE FOR ORGANIZATION
Organizations that are applying for  membership must meet the following criteria:
Social Profit Organisation
Organisations can become members if they are non-profit or profit  legally registered as well as politically and religiously independent.
Focus on Development through Football
Development through Football must play a central role in the organisation's sustainable programmes. The programmes must be active in one or more development fields of local relevance (Children's Rights & Education, Anti-Discrimination & Social Integration, Environmental Protection, Health Promotion and Peace Building) and strive for positive social change.
Your organization must be willing and able to share its knowledge and experience and to exchange with other actors in the field of Development through Football. The organization must be in the position to allocate resources for the networking process and be interested in its own continual development. Organizations applying for Network membership must therefore have a sustainable structure and work with a long-term outlook.
WHAT WE EVALUATE FOR INDIVIDUALS
Individual that are applying for membership must meet the following criteria :
Motivation statement
Education background
Knowledge about youth Football
Previous achievement inline with  Youth Development
Financial ability
Technical ability toward youth development
Availability and commitment
your References
If individual  is interested in becoming a  member, please electronically submit an application letter together with your CV and Motivation statement letter by email to info@sierradelagua.org